Moiz Gurr Chana is a unique and delicious snack crafted from high-quality sugarcane and the natural energy found in chickpeas. This snack was created to provide a healthier alternative to other snacks. It is filled with Glazed Roasted Chickpeas to provide the perfect balance of nutrition and flavor to satisfy both your appetite and your taste buds.
Keep this pack with you at all times for a snack that will make your taste buds dance with delight. Not only is it delicious, but it is also a healthy option to fuel your body with the goodness of chickpeas. So why wait? Go grab a packet of Moiz Gurr Chana and enjoy its unique taste!
Moiz Gurr Chana is an amalgamation of sugarcane and chickpeas that provides a unique sweet and savory flavor. It is a healthful snack that offers numerous nutritional advantages, including a high source of dietary fiber, vitamins, and minerals. Additionally, it is composed of 100% natural ingredients that are free from preservatives, making it an ideal choice for health-conscious individuals. Moreover, the combination of sugarcane and chickpeas helps to reduce cholesterol and bolster digestion, thus making it an excellent option for an overall healthy diet.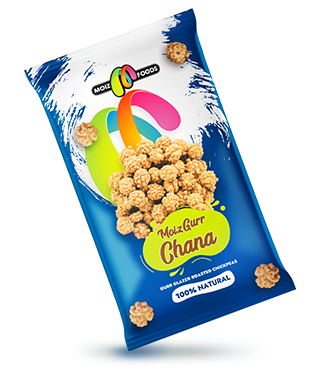 Moiz Gurr Chana is an amazing product that can be consumed at any time when hunger strikes. Whether people are socializing with friends and family, playing a game, watching TV, or studying for a test, Moiz Gurr Chana is the perfect snack. It has a delicious flavor that everyone loves and is both a healthy and nutritious snack. It is a great source of protein and fiber. Moiz Gurr Chana is the ideal snack for any occasion.